Print This Post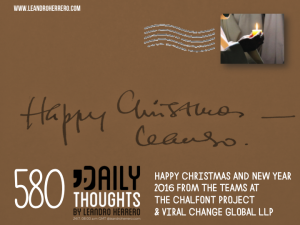 Happy Christmas!
Daily Thoughts is in pause mode. 580 Daily Thoughts later, we are going for a bit of maintenance and pause until January 4th.
Stay tuned.
I wish you a very happy Christmas and celebration, or holiday break, with your loved ones.
Thanks for being part of this community of people who want to look at organizations with different lenses, who are restless about  falling into easy complacency and who want to share this drive with others.
Talk to you soon!
Leandro