Print This Post
Today, exactly one year ago, I started the Daily Thoughts. Published every day at 08:00 am GMT in my personal website and in the company website, it is sent to a large subscription community around the world. It also sent by twitter on these accounts: @LHDailyThoughts, @ChalfontProject, @LeandroEHerrero. Many people follow it via Linkedin-Pulse. The rhythm has only been interrupted a bit over the summer and a few days in Christmas.
What I publish every day, follows a rigorous filtering. That is, me. My mind asks me all the time: will this be another piece of nonsense, contributing to the World Information Pollution? I don't get it right all the time, but I have yet to go to bed thinking that I wrote the piece 'because I could' or 'because I had to'.
I committed myself to the 'Daily' as opposed to the weekly or the occasional, because I thought I should be able to have that little conversation with myself first, and then others, in that way. And, yes, to clarify a curious and recurrent question, I do write each of them myself.
I want to inject a piece of thinking, or a little bit of 'restlessness in a bottle', OK, on a page. There is perhaps too much ranting, but I am working on this, and will get better when I grow up.
So many people have reached out since: clients, ex-clients, friends, and mostly people I don't know, those famous weak links that are our most precious network of connection.
It would seem a bit cliché to say 'thanks for following', for listening, for commenting. Cliché or not, thanks.
The first compilation of about 150 of those pieces is now published as a book: However. Work could be remarkable. And there is a bit about the book in its own website.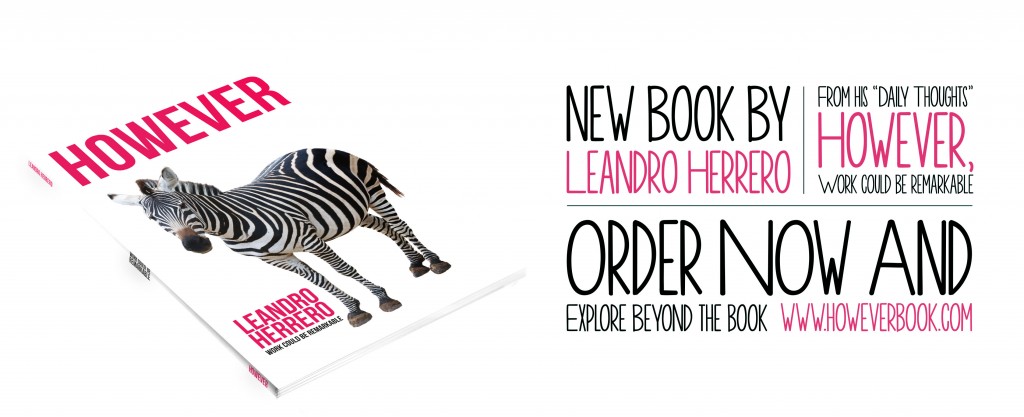 I thought I would refer today to the number one Daily Thought that got the most of reading, attention, opening, comments. By far it is
Choosing between honest arrogance and hypocritical humility.
Still today there are new comments in the LinkedIN-Pulse copy.
Thanks for the encouragement. I will keep going. I think that, never before, the world of organizations has been richer in opportunities and possibilities. Work and 'its ways' are reinvented every day. We are restless with old models. We sense we don't have good toolkits anymore.
I am an organization architect in love with 'the organization', a human organism that has its own evolutionary pathways. I want to create remarkable organizations. I think that, if we try just a bit hard, we could redefine and reinvent the way people get together, work together and achieve common goals, for a purpose. Perhaps a high purpose.
If you like or follow these Daily Thoughts, the best birthday present would be to invite others, colleagues, teams, friends…
So, I am going to have my cake. Sorry, there is no much new content today. But if you could blow that one candle with me, it would be appreciated.