Print This Post
Many organizations have a Risk Management function of some sort. Often scattered amongst different constituencies: manufacturing, engineering, R&D etc. It is also embedded in Quality Systems, such as ISO. Financial institutions, or indeed financial functions within the company, will have some form of system. However, the variations in depth and seriousness are enormous. From well-defined  'stress tests' imposed on banks, to a vague list of potential risks with no more than lip service paid to actions, and one can find anything in between.
In my consulting experience, outside the most standardised areas of operations, in this area of Risk Management, I've seen more lip service and bad planning than the opposite.
I have argued in these Daily Thoughts that companies need to devise their own routine 'stress tests', beyond the financials, to understand their adaptability and indeed survival. But I'd like to take this further and suggest that these 'stress tests' need to be formalised in the leadership capabilities.
A good model is Netflix's 'Chaos Monkey'. This is how the successful video streaming company, with lots of avant-garde organizational and management structures, defines their 'Chaos Monkey': 'A tool that randomly disables our production instances to make sure we can survive this common type of failure without any customer impact. The name comes from the idea of unleashing a wild monkey with a weapon in your data center (or cloud region) to randomly shoot down instances and chew through cables — all the while we continue serving our customers without interruption. By running Chaos Monkey in the middle of a business day, in a carefully monitored environment with engineers standing by to address any problems, we can still learn the lessons about the weaknesses of our system, and build automatic recovery mechanisms to deal with them. So next time an instance fails at 3 am on a Sunday, we won't even notice'.
I think we should hire some of these Monkeys, with proper job descriptions, and give them the formal role of generating some chaos to test our abilities and resilience. And, as in my previous Daily Thought, I am not talking software or technology but in day-to-day business: hiring, product recalls, sudden acquisitions, etc.
Before you make the expected and easy joke that you do already have these Monkeys in your organization, and they are sitting in Marketing, or Sales, or HQ, or, indeed you have some in your own team creating havoc, I'd like you to consider the serious 'Chaos Monkey' that I am talking about.
OK, end of playing with words. Do consider formal simulations of how you will cope with unexpected issues, and do extend this to the 'soft aspects' of your management, not just the hard ones.
Instead of cables and servers 'a la Netflix', imagine processes, systems, your human capital. Do you really know how many people you have 'at risk' of leaving soon, and, if you do, do you really have a plan for that.
________________________________________________________________________________________________
Do you know your REAL organization?
The organization chart tells you who reports to whom but not much else. But, who is truly connected with whom?
For many years the need to understand formal and informal connections in organizations has been well understood.  Now, we have turned organizational network science into real practice: we uncover your networks with no pain, efficiently, fast and with absolute confidentiality.
People will easily tell you where they get the information they need from. Sometimes they do this through informal channels that are not entirely visible.  We can help you identify those channels.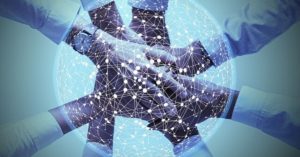 3CXcan provides a diagnosis of your formal and informal connections 
3CXcan uses organizational network science software called Cfinder Algorithm, a tool for network cluster (community) detection, to give you a profound understanding of your internal networks. With this data you can built effective solutions for your organizational challenges. It is a diagnostic, not an action driven tool and it:
◦ Provides a picture: of the formal and informal organization and how effectively both operate.
◦ Reveals: organizational connections from strong to weak, to ineffective and broken connection.
◦ Gains insight: on the specific solutions and interventions required.
◦ Identifies: the individuals that will leverage change more effectively (ie champions).
Note:
This process is totally anonymous.
No names are ever revealed (unless there is a specific agreement)
The data base of findings is erased soon after the debriefing has taken place
To find out what the results from this process look like and how it can help your business – find out more.
For a free virtual consultation or a short walk through our demo – contact us now.;