Print This Post
Taken from my soon to be released book, Camino – Leadership Notes On The Road. 
This is a great story of focus, determination, appeal to progressive levels of authority and some other things. We leaders can learn a lot.
The lookout on a battleship spies a light ahead off the starboard bow. The captain tells him to signal the other vessel, 'We advise you change course twenty degrees immediately!'
The answer comes back, 'we advise you to change course twenty degrees immediately!'
The captain is furious. He signals, 'I am the captain. We are on a collision course. Alter your course twenty degrees now!'
The answer comes back, 'I am a seaman 2nd class, and I strongly urge you to alter your course twenty degrees'.
Now the captain is beside himself with rage. He signals, 'I am a battleship!'
The answer comes back, 'I am a lighthouse'.
This excerpt, from the New York Times bestseller by the inimitable duo, Tom Cathcart and Daniel Klein: Plato and Platypus walk into a bar… is a delightful reminder of the dangers of omnipotence in a leader and the need to listen. In fact, he was lucky that the lighthouse was manned (by no less than a seaman 2nd class). The collision point is not necessarily manned in many businesses. Sometimes maps are not that good. Who knows, maybe maps do not exist but we are using an old one anyway, just in case. Or the navigation tools have been produced by old Business Schools when they were doing 'research'.
________________________________________________________________________________________________
For more thoughts on leadership – look out for my new book
Camino – Leadership Notes on the Road
Available for pre-order soon!
Good leaders are good path makers. For me, a leader is the cartographer in chief who, whilst walking with others, also becomes an architect and a builder. If this is about journeys, and maps, and building, then there is almost no end to it.
On my imaginary journey inside my head, I took notes and articulated ideas. Most became my Daily Thoughts, a blog I have been running for years. This book is a collection of those notes. Don't look for Harvard here, there are only harbours and other places that have generously adopted the content between them.
In this Camino (road in Spanish) of mine, I have also learnt to spot the real things, the fundamentals, the rocks. This is a collection of warnings, strong views and discoveries that I do not intend to be transferable. After all, the journey is not transferable, nobody can walk the Camino for you. Liberated by the idea that I don't need to impart universal wisdom to end in a sterile case study and that I can share these notes and ideas, like one shares a meal without having to explain the chemistry of the ingredients, they are here in this book, still full of dust from my journey.  The one I have only just begun.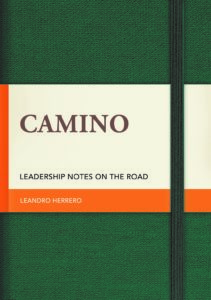 ________________________________________________________________________________________________
Dr Leandro Herrero is the CEO and Chief Organization Architect of The Chalfont Project, an international firm of organizational architects. He is the pioneer of Viral ChangeTM, a people Mobilizing Platform, a methodology that delivers large scale behavioural and cultural change in organizations, which creates lasting capacity for changeability.
Dr Herrero is also an Executive Fellow at the Centre for the Future of Organization, Drucker School of Management. An international speaker, Dr Herrero is available for virtual speaking engagements and can be reached at: The Chalfont Project or email: 

[email protected]

.