Print This Post
'A good organizer is a social arsonist who goes around setting people on fire.'—Fred Ross
Fred Ross (1910-1992) American community organizer was behind many modern social movements in the USA and also behind the organization of many labour and civil rights activities. Fred was a formidable figure in American grassroots social organization, together with Saul Alinsky (1909-1930), the latter well known beyond his activism by his book 'Rules for Radicals', a left wing 'how to' book that no serious political movement, left or right has ever ignored, either to follow it or to counter it.
I have spent time reading around the history of social mobilization, which the USA leads in quantity and quality. As I have said before, the USA, more than anywhere else, has been built on social movements. Most of them follow a well studied pattern of struggle, success and exhaustion. Others will remain for longer as public platforms aided by the digital world.
History and personal education aside, I found the title of 'social arsonist' fascinating. I was not aware of the term until recently, despite the fact that we use it routinely in our Viral Change™ Programmes, where we use the metaphor of 'the mountain on fire' to explain how from a few areas of fire (arsonist?) the fire spreads and suddenly the mountain is on fire. That is, cultures, movements, and organizations themselves.
We say, once the mountain is on fire, it's on fire. No point going back and dissecting ad nauseam whether it was the quality of the trees, the weather or a few arsonists, or combinations of. Deal with the fire!
People mobilization is, by definition, at the essence of leadership . Happy to adopt the 'social arsonist' concept, for the Viral Change™ glossary!
Taken from my forthcoming book, Camino – Leadership Notes On The Road.   Read a preview of Chapter 1 here: Extract Camino Chapter 1. 
________________________________________________________________________________________________
Camino – Leadership Notes on the Road
A collection of notes on leadership, initially written as Daily Thoughts. Camino, the Spanish for road, or way, reflects on leadership as a praxis that continuously evolves. Nobody is ever a leader. Becoming one is the real quest. But we never reach the destination. Our character is constantly shaped by places and journeys, encounters and experiences. The only real theory of leadership is travelling. The only footprints, our actions. The only test, what we leave behind.
Good leaders are good path makers. For me, a leader is the cartographer in chief who, whilst walking with others, also becomes an architect and a builder. If this is about journeys, and maps, and building, then there is almost no end to it.
On my imaginary journey inside my head, I took notes and articulated ideas. Most became my Daily Thoughts. This book is a collection of those notes. Don't look for Harvard here, there are only harbours and other places that have generously adopted the content between them.
This is a collection of warnings, strong views and discoveries that I do not intend to be transferable. After all, the journey is not transferable, nobody can walk the Camino for you. Liberated by the idea that I don't need to impart universal wisdom to end in a sterile case study and that I can share these notes and ideas, like one shares a meal without having to explain the chemistry of the ingredients, they are here in this book, still full of dust from my journey.  The one I have only just begun.
Available for pre-order this month!
To be notified as soon as pre-orders go live – email: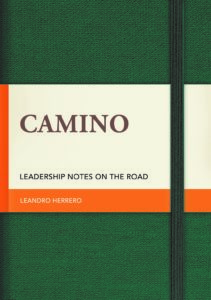 By emailing your details, you are subscribing to News from The Chalfont Project and consent to The Chalfont Project adding your details to their email list. You can opt out at any time by using the unsubscribe link on the emails or by emailing

[email protected]
__________________________________________________________________________________________
Dr Leandro Herrero is the CEO and Chief Organization Architect of The Chalfont Project, an international firm of organizational architects. He is the pioneer of Viral ChangeTM, a people Mobilizing Platform, a methodology that delivers large scale behavioural and cultural change in organizations, which creates lasting capacity for changeability.
Dr Herrero is also an Executive Fellow at the Centre for the Future of Organization, Drucker School of Management. An international speaker, Dr Herrero is available for virtual speaking engagements and can be reached at: The Chalfont Project or email: 

[email protected]