Print This Post
This is my rephrasing of 'The army is now fully prepared for the previous war', inspired by John Gall, in his reference to historian Arnold Toynbee.
This is very relevant to our organizational world today. How many times we find ourselves rethinking, redoing, restructuring, reshuffling, reskilling and re-everything as if the reality had just stopped for us. Hi there! I am going to stop time so that you can catch up. Look at all the benchmarking data, all the trend reports, all the rankings of the Most Admired, the Most Followed and the Most Saint of companies, do your re-something, and then, Me, God of Time, will push the button again.
Really?
Many re-re of Product Development involve the refining of the machine, the addition of a better oil and the change of a few pieces here and there. Not many look at a new product development that may break the rules and jump the curve.
Many HR/OD/People stuff practices and processes still try to re-skill and hire for skills on an old skill set (and competence system that seems created by a quantum physicist) that worked in the past. Being there, done done, come along and repeat with us. Not many are courageous enough to look at what may be needed for the future, including people with zero experience in your area of expertise.
Many consulting approaches are still aimed at providing comfort to the client, (and the consultants' bank managers) as opposed to providing restlessness; much more inconvenient and stressful.
Yes, I am afraid, much of what people do in organizations is to get the company fully prepared for the past.
________________________________________________________________________________________________
The Chalfont Project Academy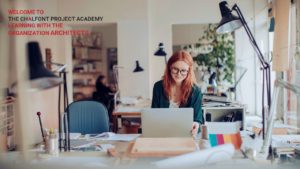 Sometimes in business, it feels like we are stuck.
We try to solve the same old questions – how to sustainably change the culture for good, how to serve the customer better, how to attract and retain talent – with the same, ineffective tools. We keep playing the same broken record.
But there is a better way; the right tools exist. The Chalfont Project Academy, our new Online Learning Platform is here to enable us to share our many resources developed through the work of Dr Leandro Herrero and The Chalfont Project, enabling you to gain a greater understanding of topics around large scale change, leadership and organizational design – all based upon our unique approach. Read, watch, absorb, then share, enhance, enlighten the world with what you learn, observe and engage with.
You can take our flagship course: Mobilize! Masterclass. Enter the world of organization architecture and acquire a complete blueprint for mobilizing people whether you are working on change, transformation or shaping culture.
Or start with a comprehensive collection of learning resource packages which include videos, webinars, papers and book extracts.
You'll be able to choose from: