Print This Post
Imagine this goal. Let's shift from 30 people making a decision in 30 days, to 3 people making the same decision in 3 days. Let's imagine it! It's only when one starts to visualise this kind of shift that all sorts of possibilities come up.
I do this with my clients to provoke a reaction: impossible, chaos, that would be good, but how? nice idea, crap, and the whole variety of things. I call this 'introducing disruptive targets'. Some may feel unreasonable. Some may be indeed unreasonable. Some will turn up possible, necessary and incredibly powerful. Some changes would never take place unless it all started… unreasonably.
Anyway, why did you need 30 people to make a decision involving a 30 day process, in the first place? Well, there may be many reasons. Here are some
We need all these people to 'represent' all constituencies
Many of these people are not empowered to make a decision, so they will need to go back to their bosses
The issue is complex, it needs lots of people and lots of time
The majority of these 30 people are in the process to 'defend' some sort of interest, or they are there 'just in case' the decision may affect them, or the groups they represent.
The issue is not complex. So many people involved is historical. This is how it has always been done, and, although the decision is 'ready' today, the next project team meeting is in 30 days, so, we will 'take it to the team'.
And combinations
What a Disruptive Target may introduce? Well, for starters, it will challenge the 'It's Not Possible Brigade'. Reasonable or unreasonable as it may be, it will force a review of processes and systems. It may discover that the only reason why things are done in a particular way is number (5), that is, it has always been done in that particular way. Perhaps.
Imagine again. 'Let's shift from 30 people making a decision in 30 days, to 3 people making the same decision in 3 days'.
I've done it. It is possible. Just a few bruises.
Five Outcomes of the disruption:
Acceleration. Suddenly decision making is fast. This is copied by other people, other places. Not change in SOPs. Just viral
Effectiveness. People work smarter, people get rid of barriers. If you want fancy labels, here are some: agility, entrepreneurial, nimble process.
Costs down. Do I have to explain?
Trust, delegation, empowerment, all up in 'scores'.  You have to start trusting these 3 people and stop 'attending just in case' or being in ambassadorial mode, representing  somebody else.
Culture change. Big time. All of the above.
With the 30/30 to 3/3, you have just avoided a multi-thousand pound consulting bill to 'create a culture of empowerment and delegation. (Tip: if you want 'a culture of empowerment and delegation', empower people and delegate).
The path to fast cultural change, organizational effectiveness and smarter working, sometimes starts with unreasonable thinking.
Unreasonable thinking as a stretch and unreasonable thinking as a blind, fundamentalist, nonsense are not the same.
Sadly it is sometimes difficult to distinguish them in real life. I know.
________________________________________________________________________________________________
THIS WEEK – don't miss our final live webinar in the 'A Better Way' series – Register now: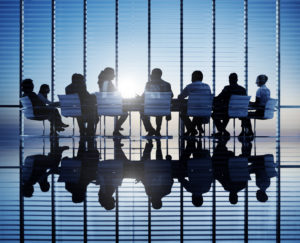 Build and enhance your  collective leadership capabilities
Create a "Better Way" for your organization to flourish in the post-COVID world
Live Webinar with Q&A – 17th June at 1730 BST/1830 CET
At The Chalfont Project, we prefer the use of the term 'practicing leadership' to 'developing' it to emphasise the real life essence of leadership. So much has been written that the world is full of recipes and techniques, examples and role models. The rich plethora of available answers obscures the need to have good questions. Reflection and introspection seem like logical ingredients for being a good leader, yet our business and organizational life treats them as luxuries that have no place in our ubiquitous 'time famine'. Busy-ness has taken over business and leadership has been commoditised to a series of 'how to'. Yet, there is hardly anything more precious in organizational life than the individual and collective leadership capabilities.
Join us on 17th June at 1730 BST/1830 CET